How to use FaceTime for Apple Watch? – Apple Watch Series 3,4,5: While everyone who has used an iPhone knows how to make a FaceTime call, not everyone knows how to use FaceTime on the Apple Watch. For those that do not know what FaceTime is, it is an app that is available on Apple's software ecosystem from 2010. FaceTime can be used to make audio and video calls over the internet (Wi-Fi or cellular internet). It's super easy, slick and useful and has recently been through several improvements where features such as conference calling, effects, etc.have been added.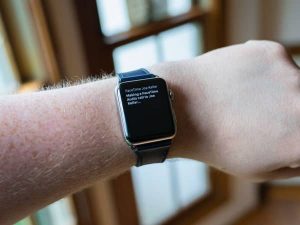 How to make a FaceTime call on Apple Watch
One can wonder what benefits FaceTime has to offer when compared to the normal audio call capabilities. There's just one answer, there's many. One can easily connect with anyone, anywhere in this world at the click of a button, and since the call happens over Wi-Fi or mobile internet, one need not worry about incurring international calling charges. Then there are certain countries that have restricted usage of apps such as WhatsApp etc., FaceTime comes to help in those countries to connect with near and dear ones. The app can be downloaded and installed on any of the Apple devices, be it an iPhone, iPad, MAC Books, and even Apple Watches.
FaceTime for iWatch: 
With the whole world moving towards wearable devices, that could in time replace the mobile phones, the watches are becoming more and more capable. It is as if we are living in a world where all the science fiction stories are coming to life. Following this trend, Apple has been leading the pack by loading FaceTime on its watch to connect people over the internet. FaceTime on Apple watches offers the same level of functionality as with any other Apple devices, except the video calling capacity. This is because the watches do not come with a camera, at least not yet. All you need to do is install it from Apple Store if it's not already there on the device. When it comes down to making a call using FaceTime on Apple Watch, there's more than one way to do that.
Method 1: FaceTime on Apple Watch using Siri
This is also the easiest way to make that call for you.  All you must do is, ask, "Hey Siri, FaceTime John". If your watch doesn't detect the utterance, you can invoke Siri by pressing the crown or by selecting the Siri app on your watch.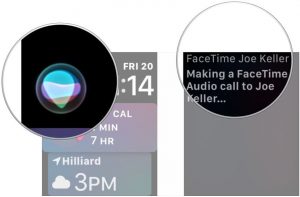 Method 2: FaceTime on Apple Watch using Phone App
The second method is not straight forward, at the same time it's not too difficult too. You are going to use the Phone App in the watch to make a FaceTime call.

Unlock your watch, then navigate to open the Phone App, tap Contacts, search for and select the contact that you want to call.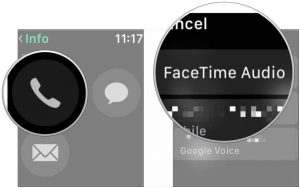 Once identified, select Phone button, and tap "FaceTime Audio"
With the way the world is moving, we can soon expect the watches to have a camera, then one can make not just audio calls, but video calls using the FaceTime Apk on Apple Watches.